Hydrogen: An Introduction to the Clean Energy of the Future
This article introduces and contains a brief overview of the history of hydrogen, describes pros and cons of hydrogen, and discusses factors for bringing hydrogen to the market in Canada and world-wide. It also provides a link to an educational forum you can join to share your thoughts about hydrogen.
Introduction
Hydrogen is proposed as the world's clean energy of the future[1]. Figure 1 is a rendition of hydrogen molecules. Figure 2 is the first-ever image of a hydrogen atom, which was produced by Aneta Stodolna and colleagues at the of the Foundation for Fundamental Research on Matter (FOM) Institute for Atomic and Molecular Physics (AMOLF) in the Netherlands (2013).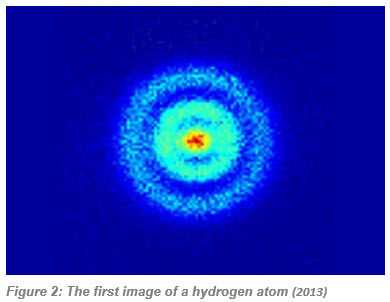 Figure 3 is a historical timeline documenting almost 400 years of hydrogen development and use between 1671 and 2020, and forces that may contribute to a transition to a hydrogen economy.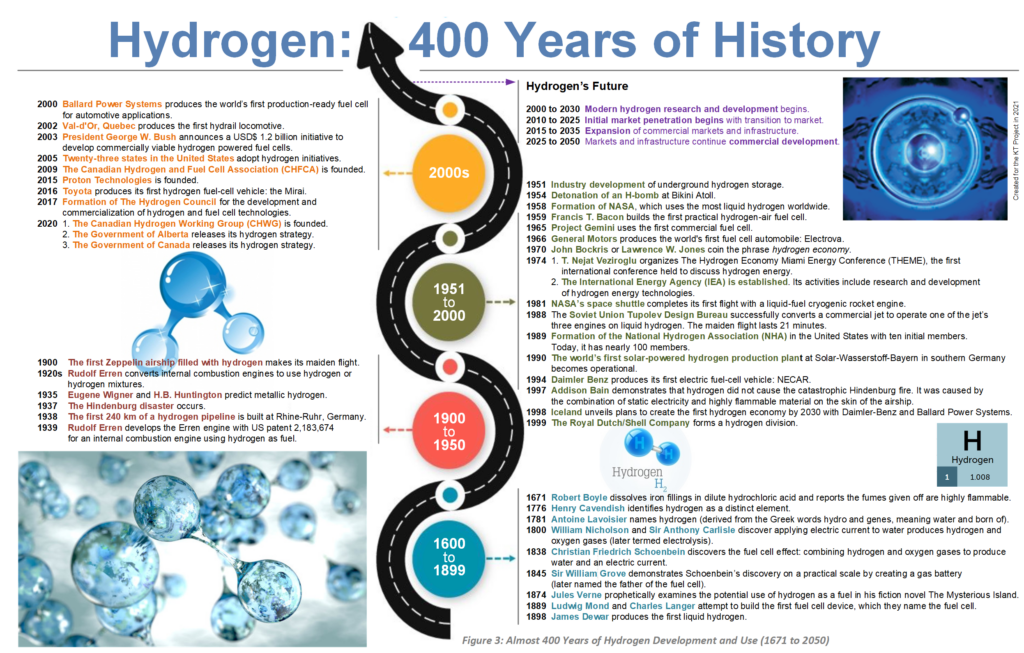 The historical timeline shown above does not include all key dates, nor recent developments. Advancements are being made by countries, institutions, organizations, and personnel around the world, and at an ever‑increasing pace. Hydrogen is now reported on in the news every day with announcements of new alliances, innovations, projects, strategies, technologies, and more.
The goal of the hydrogen economy (and other renewable energy initiatives) is to achieve a climate-neutral economy with net-zero greenhouse gas emissions by 2050. This objective aligns with international commitments to climate action under the Paris Agreement[2].
World-wide Hydrogen Strategies
Over 25 governments around the world have released, or are about to release, a hydrogen strategy to support the hydrogen economy[3]. Industry and investor organizations, regional governments, and others are also developing and implementing hydrogen strategies.
Canadian Hydrogen Strategy
Many Canadians may not be aware of the production and use of hydrogen in Canada. Canada is already one of the world's top 10 producers of hydrogen at 3,000,000 tons (3,000 kilotons tons) per year (2020)[4]. Hydrogen is used as a feedstock for fertilizer and petrochemicals, and in other industrial applications[5].
In 2020, the Government of Canada released its hydrogen strategy, the Hydrogen Strategy for Canada[4]. In summary, it plans to develop:
Canada as:

One of the top three producers of clean hydrogen by 2050; and,
The world's hydrogen supplier of choice.

Clean hydrogen as 30% of Canada's energy supply by 2050; and,
Hydrogen hubs that leverage regional opportunities and strengths for hydrogen production and use[6].
Albertan Hydrogen Strategy
Alberta is one of Canada's top producers of hydrogen. The Alberta Industrial Heartland (AIH) produces 2.25 kilotons (2,250 tons) of hydrogen per day, and operates a hydrogen pipeline and two carbon dioxide pipelines (2020)[7].
In 2020, the Government of Alberta released its hydrogen strategy, which is included in Natural Gas Vision and Strategy[8]. In summary, it plans to develop:
Export of hydrogen and hydrogen products world-wide by 2040;
Large-scale hydrogen production with carbon capture, utilization, and storage (CCUS); and,
Use of various commercial hydrogen applications within Alberta by 2030[9].
The Energy of the Future?
Hydrogen may or may not be a clean energy of the future. It has great opportunities and promise. However, it also has some great challenges. Read about pros and cons to consider, next.
Pros
Hydrogen has many pros, including that:
It can be produced locally from numerous sources (including water) and is renewable;
It is a zero-carbon fuel that can be used in fuel cells and internal combustion engines;
It is nontoxic and does not damage human health;
It is the most abundant element in the universe; and,
Its combustion produces only water vapour.
Cons
Hydrogen has many cons, including that:
Hydrogen-induced cracking (HIC) is a concern with materials made of carbon steel;
It can only be mixed into a typical carbon steel natural gas pipeline system to a maximum concentration of 20% before it damages equipment and pipe metallurgy;
Its combustion can produce oxides of nitrogen (NOx);
Its extraction and storage are relatively expensive, so technical improvements are needed; and,
Its liquefaction occurs below -253°C (-423°F), which is much colder and more difficult than the liquefaction of natural gas, which occurs below -162°C (–260°F).
Other Factors
For hydrogen to become the clean energy of the future, the cons must be addressed. Table 1 lists many other factors that also need consideration before the hydrogen economy can succeed.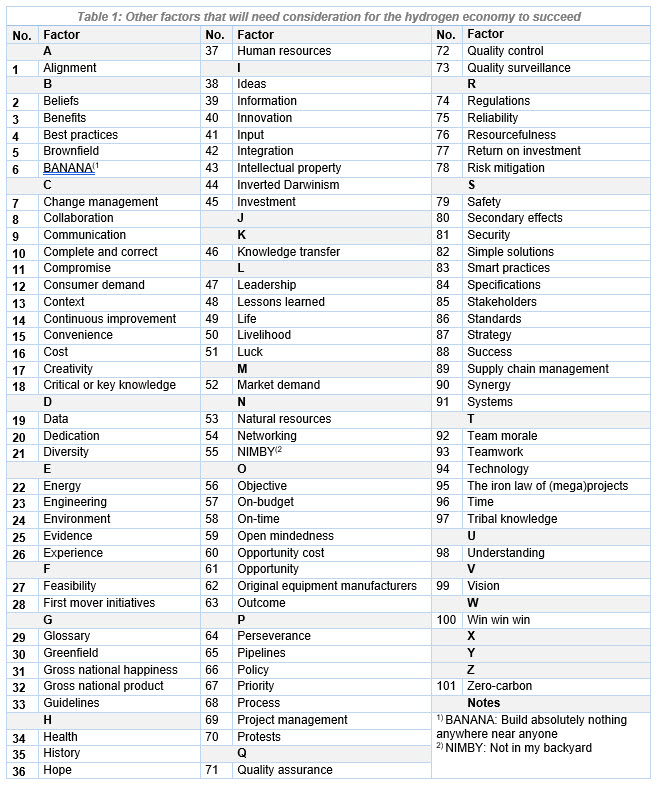 A Hydrogen Forum: the Canadian Hydrogen Working Group
Founded in 2020, the Canadian Hydrogen Working Group (CHWG) advocates for development of the Canadian hydrogen industry through action, communication, and education. Its primary objective is to use open online forums to educate, and make positive impacts that benefit energy, industry, and society.
The CHWG comprises over 800 petroleum and renewable energy personnel, and many others. Want to be part of the hydrogen discussion? Interested in supporting zero-emissions energy in Canada and around the world? Do you have:
A related challenge and need a solution?
A network and knowledge to share?
An alternative viewpoint?
Products and services to offer?
It's Free to Join
Membership to the CHWG is free; join on LinkedIn. Be a part of the hydrogen conversation and become a member today, here: https://www.linkedin.com/groups/13891237/
Note
This article was published by EnergyNow on 11-Mar-21. https://energynow.ca/2021/03/hydrogen-an-introduction-to-the-clean-energy-of-the-future-roy-o-christensen/
About the Author
Roy O. Christensen is a co-founder of the CWHG. His business KT Project saves organizations significant money and time by providing key resources to leverage expert knowledge transfer for successful project execution. He is the author of the first comprehensive terminology resource written specifically for capital projects in energy and other sectors. It is described in the downloadable ebook Successful Projects Need Effective Communication.
Contact
Figures
A rendition of hydrogen molecules.
https://www.sciencenews.org/wp-content/uploads/2020/10/102320_MT_zeptosecond_feat-1028×579.jpg
The first image of a hydrogen atom (2013). https://physics.aps.org/featured-article-pdf/10.1103/PhysRevLett.110.213001
Almost 400 Years of Hydrogen Development and Use (1671 to 2050). Derek Rosner.
Tables
Other factors that will need consideration for the hydrogen economy to succeed. Roy O. Christensen
References