Quality Definitions for EP Projects

Several quality-related terms are often used interchangeably by engineering and procurement (EP) projects and their clients or suppliers to describe various activities, but in fact, these have different meanings (e.g., Quality Assurance/Quality Control [QA/QC]).
Related: Successful Projects Need Effective Communication.
This article will focus on explaining the terms Quality Assurance (QA), Quality Control (QC), and Quality Surveillance (QS), and the elements of QS and inspection in more detail. QA, QC, and QS are all methods used to facilitate successful project execution. Specifically:

QA is the planned and systematic activities used to provide confidence that a product or service will fulfill requirements for quality;
QC is the operational techniques and activities used to fulfill requirements for quality; and,
QS is the selective audit, evaluation, inspection, observation, and review of the supplier's engineering, procurement, and quality programs or systems for fabrication or manufacturing operations and services (the "work"), to determine compliance with purchase order (PO) requirements, for the supply of materials and/or equipment (the "goods").
These and other quality-related terms are defined in Table 1.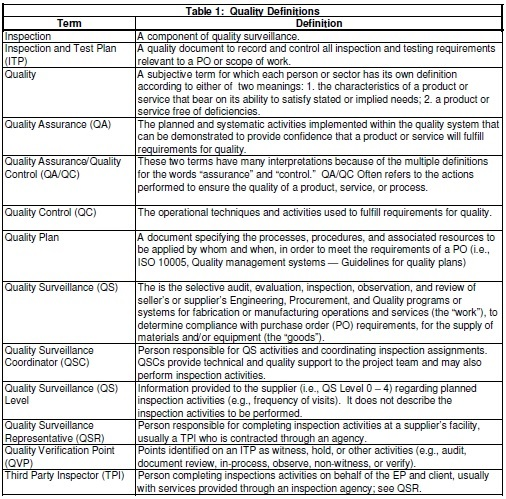 Both QA and QC are used by the suppliers for their work and the supply of goods. QC Refers to the fulfillment of a supplier's Code and quality program requirements (e.g., electrical and pressure parts and equipment must be certified to the Code of construction). Suppliers do not typically perform QS.

QS Is performed by the EP for all procured equipment and materials, which may include inspection at the supplier's facility, according to the QS Level specified in the PO (i.e., QS Level 0 – 4). The QS Levels are defined in Table 2. These insepction activities are usually conducted by others such as a or Quality Surveillance Representative (QSR) or third party inspector (TPI).

Most POs are assigned QS Level 1 – 3, which provides progressive levels of inspection from final only, to two types of in-process inspection. Some POs are assigned QS Level 0, which have no inspection planned at the supplier's facility. It is rare that a PO is assigned QS Level 4 with continuous inspection, which is more typical of on-site construction inspection.

Inspection assignments are prepared by a QS coordinator (QSC) to suit specific needs for best practices, equipment type, project requirements, risk mitigation, and other factors (e.g., inspector availability, lessons learned, and supplier and sub-supplier history). Inspection assignments are typically issued to a SQR or TPI, who is typically contracted through an agency. Inspection may also be completed by the QSC and/or an EP engineer. The QSR and agency may be selected by the client, QSC, or both.

Any inspection performed by the EP shall not relieve the supplier from any obligation to comply with all PO requirements. The responsibility to properly complete the work and supply quality goods is solely the supplier's, including work completed and goods produced by their sub-suppliers.

Inspection assignments provide for a defined scope of inspection during production (e.g., a specific number of hours or visits per week or month). This means that not every component, detail, or element is inspected from A to Z, and that not every document produced by the project or supplier is reviewed by the QSR.

This also means that inspection does not provide any guarantee of perfection, zero defects, or 100% conformance and completion, but rather verifies that basic or critical and project-specific requirements are met prior to release and shipment.

A supplier however, may use hundreds or thousands of man-hours to design and produce their goods, using hundreds or thousands of pages or MBs of data. The QSR has a limited number of hours for inspection during production, which are also used for administration, travel, and reporting.

A QSR typically works for many projects and clients at the same time; however their experience and certifications or other qualifications are invaluable towards ensuring that inspection is value-added and cost-effective. A QSC may also work for one or more projects, to perform QS activities, coordinate inspection assignments, and provide technical and quality support to the project team.

Note

This article was originally published on LinkedIn 25-Mar-15 https://www.linkedin.com/pulse/quality-matters-definitions-ep-projects-roy-christensen-ret/.

About the Author

Roy O. Christensen is a Welding Engineering Technologist who has over 35 years' experience with O&G, pipeline, and other projects. He has authored countless instructions, manuals, plans, proposals, reports, specifications, and other documents that continue to drive success for many projects. He is the founder of the KT Project that saves organizations significant money and time, by providing key resources to leverage expert knowledge transfer for successful project execution.

Contact
Figures

Making Sense Out of Nonsense, http://images.smh.com.au/2011/09/30/2659781/LT-confusion-AL-420×0.jpg
Tables

Quality Definitions
Summary of QS Levels